Automotive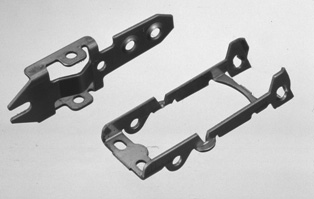 Connecticut Spring & Stamping does substantial business with the Automotive Industry. Springs, Fourslide parts and Stampings are manufactured and assembled for automotive clients large and small.
Focusing on quality, CSS maintains several certifications and standards pertaining to the automotive industry including:
TUV Rheinland of North America, Inc Certification to ISO 9001:2008/AS 9100
Quality methods and systems that conform to TS16949 and other AIAG guidelines.
The Automotive Industry Action Group (AIAG) standards are very important as a basis for Connecticut Spring & Stamping's quality assurance. Some of the AIAG methodology employed is as follows:
Advanced Automotive Product Quality Planning
Statistical Process Control
Potential Failure Mode and Effects Analysis
Measurement Systems Analysis
Production Part Approval Process
Customer Specific Requirements
Connecticut Spring & Stamping manufactures automotive products including Clutch Springs for numerous first tier customers. These customers supply various automotive products for Toyota, Nissan, General Motors (GM), Ford, Chrysler, and other large domestic and international automotive companies.
Please visit our Automotive Gallery. You may also submit a Request for Quote on a product or feel free to Contact Us with any additional questions you may have pertaining to our automotive manufacturing quality capabilities.