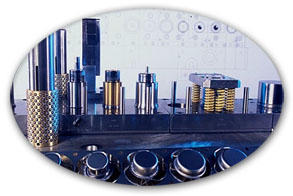 Engineering & Tooling
Our creativity and innovation allows us to tackle the most challenging components and projects.
CSS employs a team of talented tool design engineers, most of whom have 20 or more years of experience in the precision metal stamping industry. We have a very diverse background serving a multitude of industries. Take advantage of our experience by the Early Involvement of our design team in your product development. We can make recommendations to improve manufacturability, reduce cost and enhance the functionality of your components.
CSS is totally committed to meeting or exceeding our customer's needs and requirements. New projects are handled by our Design and Tooling Development Team working in a dedicated cellular environment. To ensure the best possible manufacturing process, all designs must be approved by a Design Review Team. This team encompasses personnel from all the relevant manufacturing areas and also includes a quality engineer. The team reviews the design at key stages as it progresses through the development process. All phases of the tool design and tool build are controlled by a planning and monitoring system to ensure on time delivery.
Partnering with CSS in your product development and production needs we can Offer You:
Full prototype capabilities
Team design concept
Designers with mechanical experience
Integrated CAD-CAM technology utilizing the latest software: AutoCAD DWG (2010), AutoDesk Inventor (2010), SolidWorks (2011), Pro-E Wildfire (3.0), MasterCam (X3)
Concurrent tool design and build for reduced lead times
Complete electronic file transfer capabilities: PARASOLID, STEP, IGES, STL, SAT, DXF
You will remain competitive in today's rapidly changing marketplace with our commitment to continuous improvement through lean manufacturing principles.
Contact us now to speak with our engineering department.