Fourslide, Vertislide, Multislide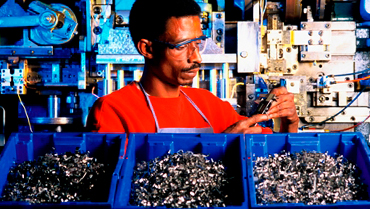 Slide Forming Machinery is accurate, repeatable and powerful. Fourslide, Multislide and Vertislide machines often prove economical for the production of intricate springs, stampings and wire forms. By eliminating the carrying strip and utilizing material efficiently, tooling costs can be reduced.
Fourslide tools can cost substantially less than power press tools and produces accurate repeatable parts. Complex forming operations that add cost to the progressive tooling can be formed easily on a Fourslide.
Multislide is basically the same as the Fourslide, but with up to 8 slides for extra forming motions. A Multislide is also a bit stronger than a Fourslide to accommodate thicker parts.
Vertislide is a Fourslide or Multislide machine with the sides and tooling in a vertical position.
Material Range: Wire diameters .005" to .188", Flat stock .003" to .062".
Please visit our Fourslide Gallery. You may also submit a Request for Quote on a product or feel free to Contact Us with any additional questions you may have pertaining to our fourslide manufacturing quality capabilities.