Machined Stampings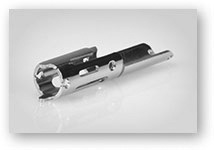 CSS is rapidly expanding its machined stamping expertise and capabilities in response to robust demand for converting fully machined components into stamped parts with CNC features. Customers can achieve significant savings by producing basic features with stamping and incorporating more critical features by CNC machining.
CSS currently has ten CNC machine centers that produce completely smooth edges on windows, slots, and holes for parts where a smooth edge condition is critical, including medical and firearms applications.
The state-of-the-art equipment includes a variety of Fadal and Hyundai-Kia vertical machining centers. CSS works with OEMs to purchase specific machines that can be dedicated exclusively to a particular high-volume job, and also maintains equipment that can be used for lower volume parts.
Click here for a case study of a medical device part where costs for one of the higher priced parts were reduced by 20-30 percent by converting to a stamped part with machined features.
You may submit a Request for Quote on a product or feel free to Contact Us with any additional questions you may have pertaining to our machined stampings manufacturing quality capabilities.