Springs
Connecticut Spring & Stamping is an international manufacturer and supplier of springs. We offer design collaboration and prototyping for our customers and are a partner in the new product development process. Low volume, short-run manufacturing is available as well as high volume production and warehousing.
Springs are produced according to customer specifications. Spring size ranges from .002" to .350" diameters and are manufactured from a wide range of raw materials.
Spring types are divided into many categories and are used in diverse applications. Some of these are: clutch, coil (small, medium and large), compression, conical, detent, ejector, extension/auto-loop, helical, magazine, torsion, triple or multiple strand.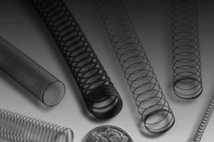 Compression Springs
Extension Springs
Torsion Springs
Magazine Springs
Please visit our Springs Gallery. You may also submit a Request for Quote or Contact Us with any questions you may have pertaining to our Springs manufacturing capabilities.