Medical
Connecticut Spring & Stamping provides comprehensive engineering, design support and advanced technology to the medical industry.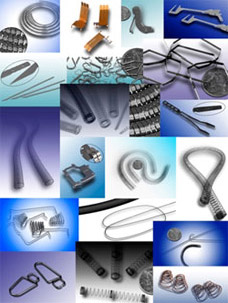 View our new Medical Brochure Video.
Specific Medical Parts Applications include:
Instruments - Handheld Surgical Devices, Surgical Staples, Staple Removers
Monitoring Devices - Battery Contacts (flat stock or coiled wire)
Endoscopy - Clip Appliers, Suturing Devices, Spring Clips, Hemoclips
Drug Delivery Systems - Syringes, Inhalers, Nebulizers, Autoinjectors
Electrosurgery - Probe Plus, Hook Tips
Pulse Oximetry - Finger Sensors
Orthopaedic - Hinge Plates
Top Three Reasons for Contacting CSS for Medical Parts Assembly and Manufacturing:
Engineering and design assistance to get your medical product to market ahead of schedule and within budget.
Broad technical expertise to develop and manufacture a wide variety of tight tolerance medical product components including minimally invasive surgical devices, diagnostic tools, monitoring equipment and many other health care applications.
Competitive prices in today's rapidly changing and competitive marketplace are a result of our commitment to continuous improvement and raising manufacturing, assembly and processing efficiencies.
Please visit our Medical Gallery. You may also submit a Request for Quote on a product or feel free to Contact Us with any additional questions you may have pertaining to our medical manufacturing quality capabilities.