Connecticut Spring & Stamping Now Has Fineblanking Capabilities
FOR IMMEDIATE RELEASE
Contact:
Kristin Nugent
McNeil, Gray & Rice, Inc.
617-367-0100, ext. 148
kristin.nugent@mgr1.com
Economically produces highly complex multifunctional parts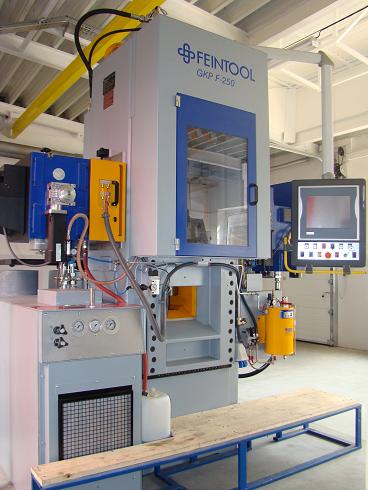 Feintool GKP-F 250
Farmington, CT - Connecticut Spring & Stamping (CSS), a manufacturer of precision parts for the medical, aerospace, firearms and defense industries worldwide, announces that it has further expanded its capabilities to include fineblanking, ideal for economically producing highly complex, ready-to-install multifunctional parts in medical and firearms applications. Fineblanking produces parts that are typically 30-40 percent cheaper than a part that is stamped and machined – with some parts as much as 75 percent cheaper, depending upon part configuration.
Fineblanking provides parts with excellent flatness, rigidity and greatly enhanced edge condition. It is especially useful for those applications were one edge of the material is a functional surface, for example a trigger pull or drive channel for a clip applier in a disposable surgical device.
Using a triple-action fineblanking press, CSS can now produce completely leveled parts with clean, right-angled cut surfaces and no torn or chipped edges. The single-station compound fineblanking tool produces a finished part in one press stroke. The only additional operation needed is the removal of a slight burr.
The fineblanking press is perfect for a wide range of smaller parts that are up to 2.5 inches long, with material thicknesses of up to ¼-inch. Unlike conventional presses, in which the smallest hole that can be pierced is twice the material thickness, fineblanking can pierce holes equal to material thickness. Fineblanking also allows stamping closer to the part's edge than does a progressive tool. Depending upon the part requirements, CSS can now combine the use of fineblanking with machined features; less required machining yields a more cost competitive part.
"With our new fineblanking capabilities we can offer customers alternatives that let them develop designs for improved functionality and achieve great finishes rather than require secondary operations, and we can do it at a great price," said Steve Dicke, CSS VP of Marketing.
About Connecticut Spring & Stamping
Headquartered in Farmington, CT, Connecticut Spring & Stamping (CSS) is a manufacturer of all varieties of close tolerance precision parts for the medical, electronics, aerospace, firearms and defense industries worldwide. They provide springs, metal stampings, machined stampings & sub-assemblies for OEM's worldwide. In business since 1939, CSS prides itself in design and engineering involvement that starts with product development, and moves through prototyping, manufacturing, and assembly to warehousing and point of use. Headquartered in Farmington, Connecticut, CSS has warehousing facilities in Puerto Rico, Singapore, Shanghai and Dongguan that allow our customers to build products with just in time (JIT) inventory.
For further information, please visit www.ctspring.com or call 860.677.1341
###
Attention publishers: Please send all sales leads to Debbie Tine, Sales and Marketing Manager
Connecticut Spring & Stamping. 48 Spring Lane, Farmington, CT 06032
Phone: 860.703.1629 Email: debbie@ctspring.com
###