About Us
Dedication to early engineering involvement and collaboration. That's why you can count on CSS.
CSS (Connecticut Spring & Stamping) is a leading international precision manufacturer and has been a key strategic supplier of metal springs, progressive stampings, fineblanked stampings, machined components, and assemblies to industries for nearly 80 years. As a family owned and managed company, we pride ourselves in our decades of experience, honed by our expertise in medical, defense/firearms, aerospace, and government components. We are a comprehensive solution provider that collaborates with our customers through all aspects of development, managing projects from prototyping and product launch to full volume production and assembly. What sets us apart from the crowd is our experience in developing innovative, advanced, and difficult-to-make parts. Companies and industry leaders work with us because they know they can rely on our ability to develop the most challenging of components and assemblies in their space.
Customer-Focused Mentality
At CSS we strive to be not only a supplier, but also a trusted partner. We see our customers as the most important part of our business, and our commitment shows in the countless vendor appreciation/performance awards we've received over the years. Every day we work to provide the most attentive and immediate service possible, whether it's collaborating on product development, providing a quotation, responding to changing production needs, or communicating a project update.
Many of our clients are industry leaders that have been with us for decades. These relationships exist because we invest ourselves in the long-term success of our clients' businesses. They turn to us as a source of expertise for a broad range of manufacturing and technical challenges. We know how to achieve the results they have come to expect simply because we understand their businesses and industries. Our consultative nature helps to build even stronger and enduring relationships.
Lean Manufacturer
Lean manufacturing permeates the walls of CSS. Since adopting the strategy in the 1990s, our company has evolved and formalized our activities to implement efficient workflows throughout our facilities, from eliminating excess inventory to streamlining processes and reducing costs for clients. We are also a firm believer that lean philosophy is about more than just systems and processes. It also depends on our own self-discipline, responsibility, and desire for improvement.
We believe you can only improve what you can measure. We hold ourselves accountable to lean principles every day, with a management structure and a formal lean program that has been instrumental in ensuring our productivity and constantly improving our processes and systems.
Our senior management team dedicates itself to investing in our technology, operations, and people, by providing regular training and workshops so that we can operate as efficiently as possible. It is our focus on lean manufacturing values that helps keep CSS ahead of the curve. The proof is in our track record: we have increased our on-time delivery to a remarkable 96% rate, which is by and large unmatched in our industry.
Experienced Family-Run Business
We have been a key supplier of springs, stampings and machined parts to many different industries for nearly 80 years. We are a global supplier with an international presence. Family values have been at our core since 1939, and we share a sense of pride in CSS with each new generation. Our commitment to training for the CSS family enables us to deliver topflight products far more efficiently because our employees are able to seamlessly interact and collaborate across all our departments. Our decades of experience also position us to design and implement countless best practices for our customers.
But just because we emphasize tradition doesn't mean that we're traditional. As times and technologies change, so does CSS. We are constantly adapting alongside the evolving and ever-rising standards of the industries and customers that we serve.
---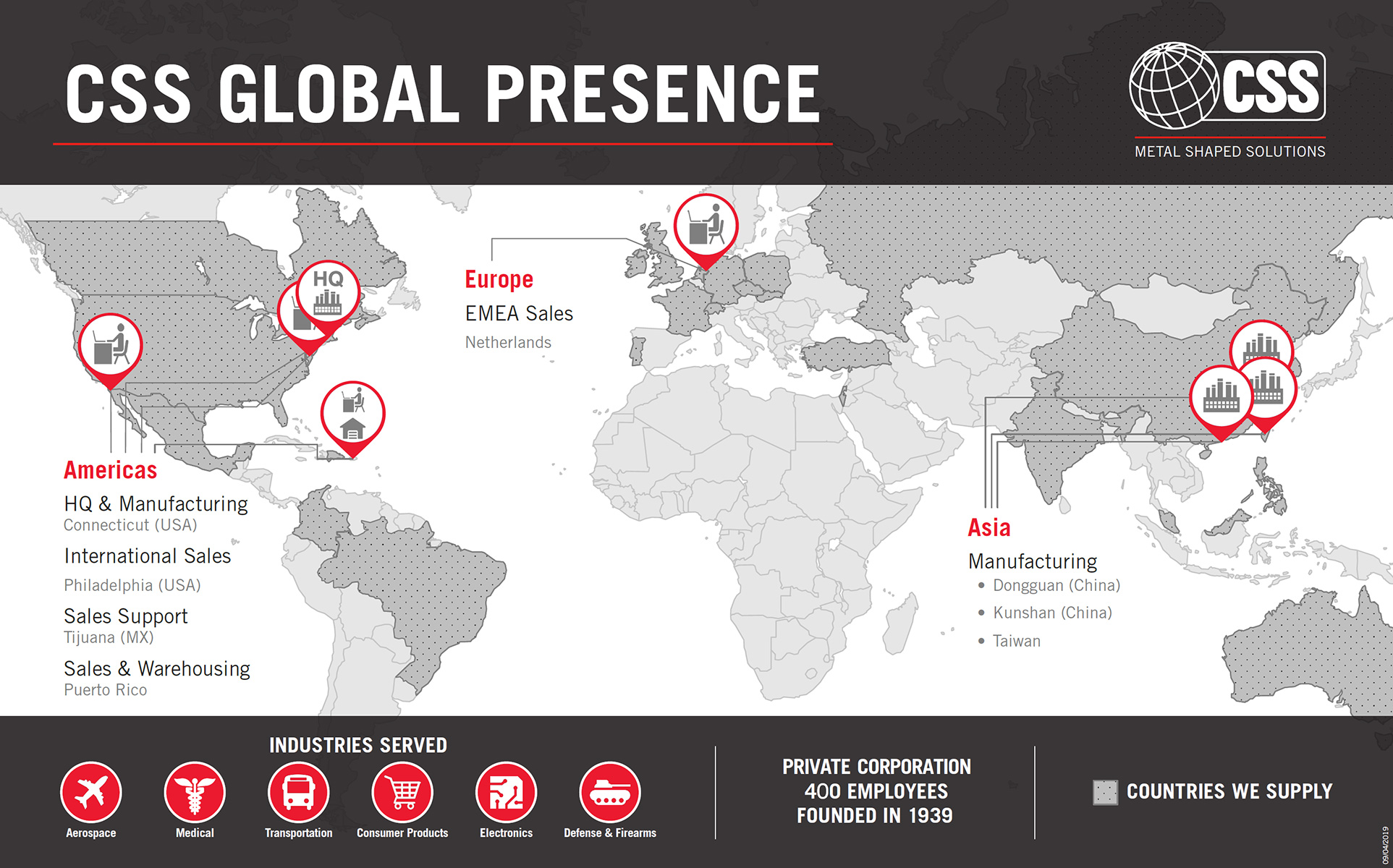 NAICS Code: 332613
SIC Code: 3469
Remit to Address
Connecticut Spring & Stamping Corporation
Dept 106018
PO Box 150431
Hartford, CT 06115-0431
Corporate Address
Connecticut Spring & Stamping
48 Spring Lane
Farmington, CT 06032